Smart locks and smart home devices are a dime a dozen these days, and for good reason. The technology offers a great deal of convenience, thanks to the remote and mobile access options they introduce. For instance, smart locks generally open a conventional deadbolt or door lock to new channels — you can open most smart locks using your mobile device.
This technology has yet to leap to similar platforms, such as bike and mobile transport locks. Even still, while smart locks do introduce some more advanced features, there are some features left to be desired. Biometric authentication, or more specifically using a fingerprint to unlock a device, is still relatively tough to find.
Imagine opening any lock — door or otherwise — by pressing your finger to a scanner? The Anysafe Fingerprint U-Lock aims to make that happen, as it allows multiple methods of entry including via fingerprint scans.
What Is the Anysafe U-Lock?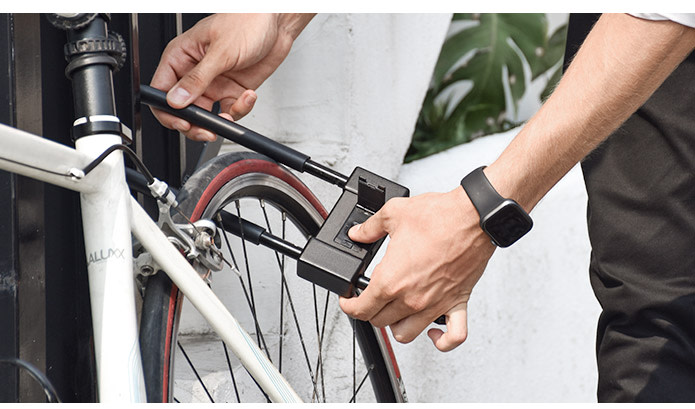 The Anysafe U-Lock includes a fingerprint sensor and  takes less than 5 seconds to release the lock.
Simply put, Anysafe's lock is a portable U-lock meant for use with bicycles, doors, bags, furniture and just about anything that needs to be secured. Like a traditional U-lock, you slip the U portion around the item you wish to lock and then close the clasp. What makes the Anysafe U-Lock special is that it introduces smart functionality, particularly through fingerprint access.
In five seconds or less, you can have the lock free and be on your way. It also has an incredibly long battery life, so you don't have to worry about losing power while you're away.
Additional features include:
IP67 waterproof design
Bold carbon steel composition which is durable and secure (cannot be cut with bolt cutters)
Alternatively unlocks with a physical key
Adjustment length support to accommodate multiple applications
Excellent battery life: 2 years standby or 1 year active use
microUSB charging port
Holds up to 10 user profiles/ sets of fingerprints
Also, a fingerprint cover shields the sensor to prevent it from being damaged by the elements. Rest assured, the Anysafe U-Lock is suitably secure and will protect anything you connect it to, gate, bike or otherwise.
Where Do I Get One?
The Anysafe U-Lock can be used to secure bicycles, gates, furniture, bags, and more.
The Anysafe team has turned to IndieGoGo to help raise funds for their project, which is incredibly close to reaching it's goal (95 percent as of writing). If all goes to schedule, the first shipments will go out to backers sometime in November 2019. Anyone who wants to purchase the lock via retail should be able to do so shortly after. Pre-orders are less than $100 currently, which is a great deal for any capable bike lock, let alone one with smart features like Anysafe's.
In any case, we can't wait to get our hands on one. Even while unlocking a bike, using your fingerprint to do so has a very James Bond feel.
Ideaing empowers you to live smarter. Our team researches and recommends only the best smart gadgets, and we may earn a small commission if you buy through our site. Our writers maintain strict editorial independence and integrity. Ideaing is independently owned and the opinions expressed here are our own. Learn more about us.