This article takes a look at the Best Air Circulator Fans of 2022. Climate control is one of those little things that makes life better. Being stuck in a stuffy room during hot weather is never a good time. While air circulators don't actually cool or heat a room, they do move air around to make things more comfortable. The circulation helps hot and cold air meld together. They also create a wind-chill effect which will make you feel better. Moreover, circulating fans help to evaporate sweat, which is very important in hot, humid climates. There are a lot of choices on the market, and several factors come into play when picking out the right one for you.
Why an Air Circulating Fan?
Why should you look into an air circulator versus other cooling methods, such as a regular fan or an air conditioning unit? For starters, air circulators are very energy efficient. While AC units are effective, they are usually expensive to run and require a window to run. Fans are great for directly cool off one person, but air circulators are superior because they get air flowing through the whole room. In addition, there are other smaller factors to consider. These fans are very mobile, so you can easily move them from room to room, and store them away during the off-season. Additional perks like remote controls make usage even easier. Machines that come with built-in timers also add to the convenience. As with any electronic, a good warranty is worth looking into. Used correctly, an air-circulating fan should last you for many seasons.
Energy Efficiency Tips
Speaking of energy efficiency, it has been projected that this summer's energy costs are going to be historically high. While this is not good news, there are definitely some things you can do to help avoid super high bills. Here are some tips to stretch your cooling budget.
Take advantage of cooler mornings and nights: Circulating air the natural way, through opening windows and screened doors can allow for airflow. While you're at it, position your air circulating fan near the door or window, to accelerate the cooler air coming in. During the day, closing doors and blinds can keep the hot air out.

Now that people are returning to the office, you may have many hours out of the house. Programmable thermostats can allow you to raise the temperature of your home by 8-10 degrees during hours when nobody will be bothered by the increased temperatures. Of course, if you have pets, make sure it doesn't get too hot.

Combine cooling appliances: an air conditioning unit will certainly drop the temps in your home, but also raise your bill. Get the most out of your AC unit by incorporating air circulating fans. The air conditioner will cool the air and then the air circulator will move air around, making your AC unit more efficient.

Portable AC: On the topic of air conditioning units, consider a portable model if your dwelling doesn't feature central AC. If you spend the day in your home office and evenings in your den, being able to take the cooling with you rather than having to purchase separate units for each room can be a bargain.

Test your Tolerance: You may be keeping your house cooler than need be. Experts say that the best temperature to keep your house is 78 degrees Fahrenheit. Of course, this varies from person to person. While you don't want to be uncomfortably hot, it's worth seeing if you can withstand a bit higher temperatures as this will save money in the long run.
Save Money by Saving Energy
You might not be able to avoid running an air conditioning unit in the summer, but using it less will be a big help. This is where air circulating fans come in. While actual temperature control is important, getting rid of the "stuffy" feeling in a room increases comfort levels drastically. In addition, air circulating fans use up way less electricity than air conditioning units. Most models are designed specifically to be energy efficient. If you combine the use of an air circulating fan with your AC, you can get the best of both worlds. The air circulating fan can improve the feel of the room, lessening the need to run the expensive AC at lower temperatures. Since air circulating fans are especially good at helping to evaporate sweat, this is an added bonus that doesn't generally come with a regular AC.
Key Features
Definitely don't sweat it over a lack of vast scientific knowledge. However, to benefit from an air circulating fan, some terms are helpful to know. Oscillation refers to back-and-forth movement. The wider the range of movement, the better the circulator will work. Many fans include a head that can tilt. Since heat rises, blending hotter and cooler air by pointing the fan upwards is effective. Speed is another consideration. Keep in mind higher speeds can mean a louder fan, and stronger wind gusts can be disruptive. Know the rough measurements of your space when selecting a fan. There is a formula for figuring this out, called CFM (cubic feet per minute). It takes your room's length, width, and height to determine how quickly it can be cooled. Using an online calculator is the easiest way to find this number.
Types of Fans
A primary consideration is what type of fan you want. To get the most out of your air circulator fan, you must give it enough space to work. Pedestal fans are usually adjustable, and the taller height goes above heavy furniture to circulate the air. Tower fans are popular because of their streamlined design and steady oscillation. They have a small ground footprint, making them easy to store. Desk fans tend to be smaller and more energy-efficient. They can circulate the air while still fulfilling the traditional fan duty of direct airflow. To save floor space altogether, wall-mounted fans are perfect. They battle the rising hot air and keep the fan away from people and pets. On that note, bladeless fans are the safest choice for households with pets or kids if you have them on the table or floor.
Best Air Circulating Fans of 2022
Best for Large Rooms
Get it
The Vornado 660 Large Whole Room Air Circulator Fan has special technology that allows it to quickly cool down a room. This powerful machine can blow air up to 100 ft, and the 5-year warranty with US-based customer service sweetens the deal. An even cooler detail? Some models of this fan are Amazon Alexa enabled, so they can be voice-controlled.
 4 speed controls are easy to reach on top of the circulator

The detachable grill makes it easy to maintain

Vortex action instead of oscillation makes cooling the whole room a fast process
Best for Humid Climates
Get it
The Frigidaire Evaporative Cooler functions a bit like an air conditioning unit, without the compressor. Wheels make it incredibly easy to move from room to room. This model is ideal for people that live in humid climates but has a setting for dry days as well. You can even use ice for chillier air.
The wheeled design is easy to move
Cools the air
Easy to use
Best Tower Circulator
Get it
Dyson is a household name for everything from vacuums to beauty products, and its fans are held in high regard as well. This sleek design is extremely safe, making it ideal for households with children or pets. This device looks nice enough to have on display but is also easy to store.
The precision timer can be set in 15-minute increments
Easy to clean
Safe for pets and children
Best Wall-Mounted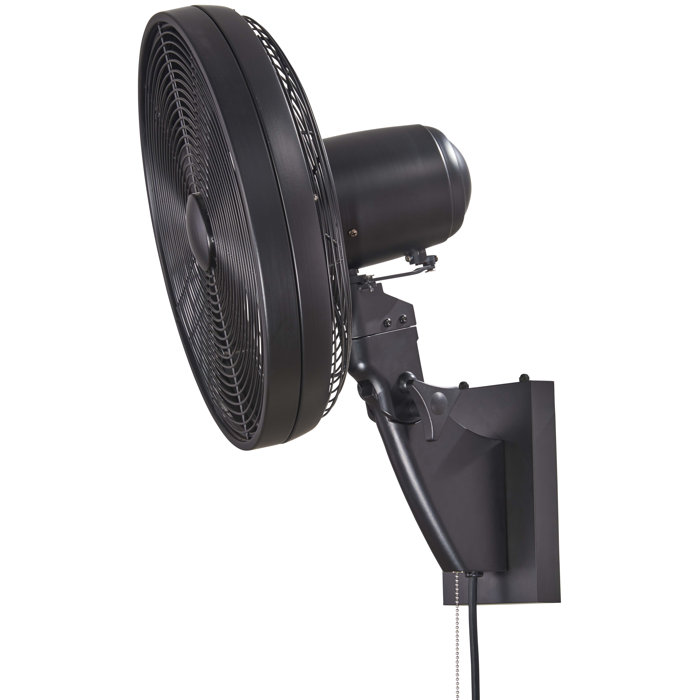 Get it
Sometimes the struggle is real when trying to figure out where to put a fan. Since heat rises, ceiling fans are among your best options when it comes to cooling down a room. However, you need a high enough ceiling to allow for that to work. There are a lot of fans that sit on a desk or the floor, but what if you don't have space for that? That's where the MINKA Aire Everywhere comes in. This fan is wall-mounted but plugs into an outlet. You get the advantages of a ceiling fan without having to install one.
Mounts on walls, saving floor space
Plugs into the wall
Wet-rated for added safety ( can even be used outdoors!)
Best Desk fan
Get it
This tiny device looks more like a hidden camera than a fan. Despite its petite size, the Greentech Environmental Pureflow packs a powerful punch. Bladeless, quiet, and remote-controlled, this fan offers direct cooling as well as air circulation. It can be placed on top of a wall unit or higher shelf to battle rising heat without taking up too much space.
Small size
Extremely quiet
Energy efficient
Best Floor Fan
Get it
Lasko is one of the most popular brands when it comes to fans, and for good reason: they put out consistently good products. This 23.23-inch floor fan is no exception. This classic style is easy to swivel, making it work in different sizes of rooms. It's ideal to use in a doorway to create an air exchange, or you can point it completely upwards to full circulation. The blades are covered with a tight cage, decreasing the chances of a pet or child getting injured. (Obviously, it's always suggested that you supervise pets or kids around electronics.)
Low to the ground and hard to knock over
Pivoting head can direct airflow in many directions
Can be moved easily from room to room with a carrying handle
Best Affordable Choice
Small but mighty, the Vornado Personal Air Circulator Table Fan won't break the bank when you purchase it and could end up saving you money. Available in plenty of room-coordinating colors, this unassuming device is perfect for a nightstand, desk, or kitchen counter. Reviewers mention the small size and extremely quiet motor as other reasons to make this fan your first choice. It is easily adjustable and can be used at close range.
Multiple speeds and easy to adjust
Most economical option
Perfect for solo use
Best Style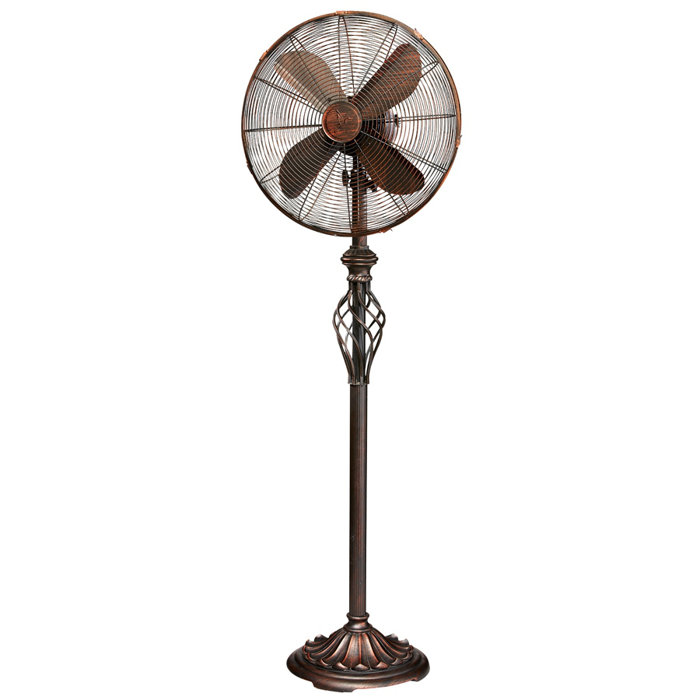 Get it
While many fans look futuristic or minimalist, this fan combines modern capabilities with old-school cool. The antiqued brass finish complements many decors where a black or chrome fan may look out of place. The ornate stem is eye-catching yet refined. If you're looking for something that looks more like art than machinery, this model is for you. 
Sophisticated vintage design works well with many styles
The heavy base makes it hard to tip over
Indoor/outdoor compatible
Best Multi-Purpose Circulator
Get it
Why settle for just air circulation, when you have one machine that also offers ionization, air filtration, and heating? The AB20 Ionizer does it all. This model includes a HEPA filter and the oscillation is quiet and effectively increases airflow. The bladeless style keeps you safe even if you have it close by on your desk. This model truly is a multi-tasker, since it will help combat summer heat as well as winter chills.
Heats and cools
Offers air purification in addition to circulation
Space-saving design
Best Window Air Circulator
Stale air and stuffiness can make your environment uncomfortable just as much as high temperatures can. The ComfortZone CZ31OR is made to be expandable so that it can fit in most standard window frames. You can choose settings from high to low, and allow the fan to refresh your indoor air. Set the fan to push air out, or bring fresh air in. Even though this model is perfect for a window set-up, it does include legs so that it can be freestanding.
reversible airflow can bring air in or push air out
can be used freestanding or in window
The adjustable size works with most windows
---
Why you should trust Ideaing? 
We pride ourselves on providing truly objective insight into our reviews and recommendations. 
If you buy through affiliate links, we may earn commissions, which help support our site at no cost to you. If you do end up buying anything, thank you! Even if you don't, we hope you enjoy the content regardless!
---
COMMONLY ASKED QUESTIONS
Q. Do air circulators cool rooms?
A. Unless there is a specific cooling function included, air circulators do not cool the air. What they can do is increase airflow and help to regulate temperatures. They do this by blending the hot rising air with the cooler air underneath. This helps to evaporate sweat and lower humidity, making you feel cooler. While air circulators themselves don't offer to cool, they can make your cooling system more efficient by moving the air around.
Q. Are air circulators better than fans?
A. The main difference between an air circulator and a fan is how you use it. Fans are used directly so that the air is aimed right at you. On the other hand, air circulators move the air around your entire space, helping to dissipate hot air. Some air circulators come with additional features, including air filtration, which can also make them the better choice. 
Q. Where should air circulators be placed?
A. Some air circulators require an open door or window. Always follow the included directions for your particular unit. Since circulation is the goal, you want to have as much clear space around your circulator as possible. Rooms with large, tall furniture will do best with a pedestal fan or something wall/ceiling mounted. When purchasing an air circulator, check what square footage that the fan is intended for. Fans made for smaller spaces will not adequately circulate air in larger spaces. If you get a fan that is too strong for a small space, you might get uncomfortable with the airflow and papers or other objects flying around.
Q. What weather does an air circulator work best in? 
A. Weather with high humidity is the best time to use an air circulator. According to some recent studies, air circulators are not intended for extremely dry heat. The reason for this is that the fans help to evaporate sweat. This is great in muggy weather but can lead to dehydration in very dry conditions. Since there are still benefits to air circulation, even in dry conditions, you may consider the addition of a humidifier. The added humidity will balance things out.
---
With record heat hitting the US this week, it's more important than ever to keep cool. Buying an air circulator may seem like a chore, but it's a quick way to increase your well-being within your space. The right model's energy efficiency can help cut your utility bills and is earth-friendly to boot. It's the obvious choice to create a happier, healthier home during those hot summer months.
Have you used an air circulator yet? Please share in the comments any tips or your favorite device!