If you travel on your bike a lot then you probably carry a helmet around with you everywhere. The thing with most helmets, however, is that they're not exactly portable or convenient. What if there was a helmet that could fold up smaller and fit nicely inside any backpack or handbag?
That's the defining feature of Cyclo, a unique helmet designed by ex-Aston Martin and Boeing engineers. You know with those credentials it probably looks great too.
What Is the Cyclo Bike Helmet?
The Cyclo helmet folds up so you can easily stow it in a bag.
The Cyclo bike helmet is "packable," but we'll get to more of that in a bit. It's made of recycled ocean plastic, so even though it's durable it didn't cost the Earth anything valuable. In fact, it did the exact opposite and helped the planet by taking away some of the waste. Each purchase or helmet uses the equivalent of 20 single-use plastic bottles and prevents them from damaging our planet. Badass, right?
Cyclo is one-size-fits-all and it's designed to be both breathable and comfortable. An advanced cooling system means air can flow freely through the shell while you're riding, which must feel fantastic. It's also purportedly 68 percent more effective at impact control, offering increased safety thanks to its honeycomb structure. On top of everything else, it's an incredibly effective helmet, how about that?
But the "packability" comes into play with it's foldable design. A rear latch folds in, allowing the top head structure to flip around and sit inside the rest of the helmet core. When collapsed it looks more like a bowl and it takes up a much smaller profile, so it can fit neatly inside any bag. You can always carry it in your hands too as it weighs a mere 440 grams or 15 ounces.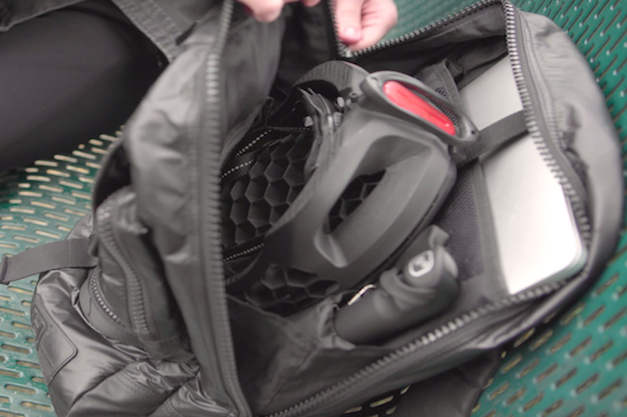 Cyclo folds up nicely to fit inside any backpack, handbag or luggage.
Cyclo will be available in four separate colors: Aqua Green, Black Orca, Sand Tan (Orange/brown), and Raspberry Coral (Bright Pink). In addition, Cyclo will pass all EU and US safety standards before it launches. That means it's suitable to wear during any activity such as biking, or while using personal transport vehicles like a scooter.
Where Can I Get Cyclo?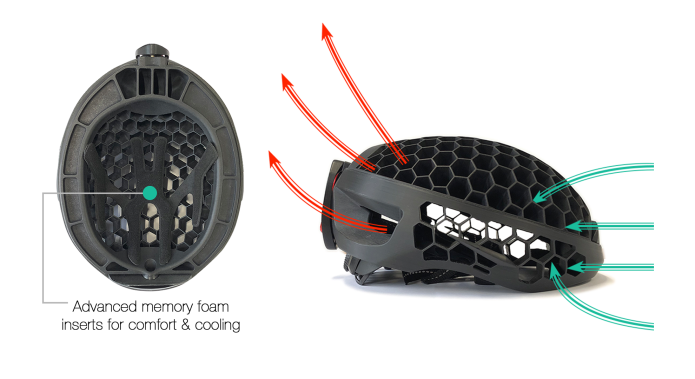 Cyclo is also breathable with a unique cooling design.
The Cyclo Technology team — based in London, UK — has launched an IndieGoGo campaign to help fund the project. Currently, backers have pledged over $18,000 which is fairly close to the $25,000 flex goal.
All pre-orders are 50 percent off, which is an excellent deal, and the first shipments are scheduled to go out in March 2020. Of course, that's if everything goes according to plan after the campaign goal is met. All Cyclo helmet orders will ship worldwide, and they come with a custom carrying bag.
Ideaing empowers you to live smarter. Our team researches and recommends only the best smart gadgets, and we may earn a small commission if you buy through our site. Our writers maintain strict editorial independence and integrity. Ideaing is independently owned and the opinions expressed here are our own. Learn more about us.