We all know that a TV is more than just a screen. It's a window to your favorite shows, movies, games, and more. But how do you make sure that your TV is not only functional but also stylish and comfortable? That's where TV stands come in. TV stands can enhance your viewing experience by adjusting the height and angle of your screen, improving the sound quality by reducing vibrations and reflections, and adding some flair to your room by matching your décor and personality. In this article, we'll help you find the best TV stand for your needs and preferences. We'll give you some tips on how to choose the right size, shape, material, and design for your TV stand. We'll also show you our top picks for the best TV stands for 2023.
TV stands come in many shapes and sizes, from simple consoles to elaborate entertainment centers. Whether you want to blend your electronics into your surroundings or make them the star of the show, you can find a TV stand that suits your style and budget. Unlike wall mounting, which requires heavy-duty anchoring and permanent placement, TV stands are easy to install and move around. They also offer extra storage space for your remotes, cables, DVDs, games, and other accessories. Some TV stands even have shelves or drawers for displaying your books, photos, plants, or other decorations. With so many options available, how do you choose the best one for your room? Let's take a look at some factors to consider before buying a TV stand.
What to Consider
After deciding on the style of your TV stand, you need to consider some practical factors. Here are some factors to take into account when you pick your TV stand:
The size of your room. An entertainment center that takes up a full wall will overwhelm a small space but will look great in an open room with high ceilings.
The size of your TV and stand. You need your stand to have several inches, or preferably a foot of space on either side of the base. While the screen can be slightly bigger than the length of the stand, it will look best if they are sized within a few inches of each other.
The height of the TV shelf. This calculator from omnicalculator.com will give you an idea of the optimal height for the best viewing.
The safety of your TV stand. Many TV stands come with anti-tip hardware, and this is especially important to put into use if you have children or pets in the home.
Best TV Stands of 2023
Simple No Tools Installation TV Stand
Get it
Sometimes the worst part of buying new furniture is the worry about putting it together. Who has the time and the tools? This stand comes together in minutes. Moreover, this small, basic unit will look good in any space. The Furinno Turn-N-Tube No Tools 3-Tier TV Stand comes in colors of Espresso, Columbia Walnut, and Dark Wood. This has over 4,000 reviews on Amazon with a 4.5 out of 5 star rating. This stand is more or less a starter TV stand or most likely a great choice for your guest bedroom, or kids' room
Pros:
Tool-free assembly

Neutral design

Great budget option

Fit up to a 32-inch TV
Cons:
Not constructed of solid wood and might chip easily
Not big enough for a lot of today's much larger TVs
Simple TV Stand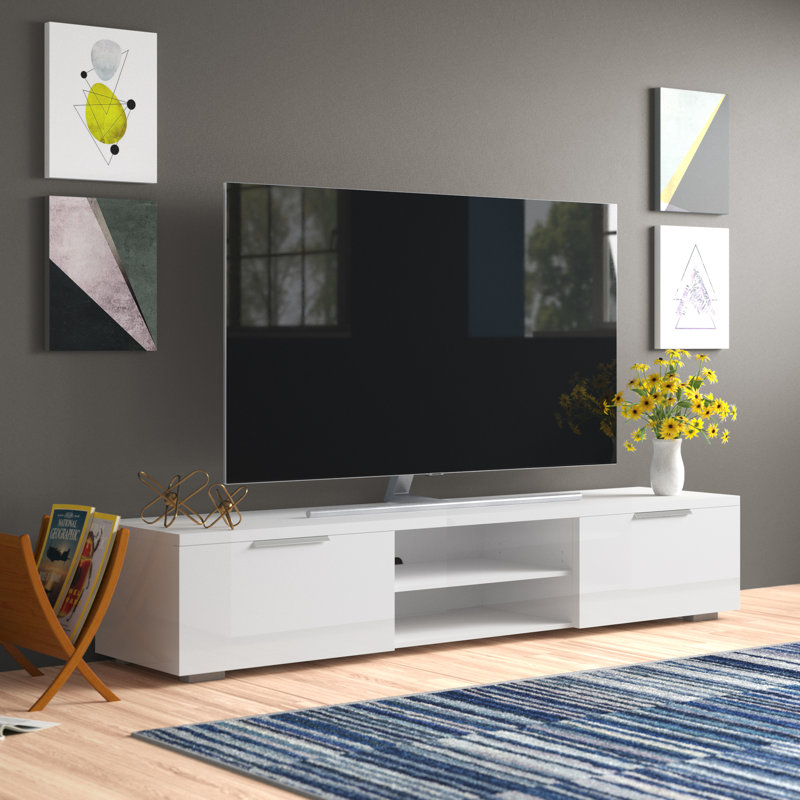 Get it
This TV stand features a sleek look and can adapt to a multitude of interior looks. There is a small amount of storage space for other electronics. The Zipcode Design Ansel TV Stand comes in White High Gloss, Black Matte, Jackson Hickory, and Tuffle. This currently has 5746 reviews on Wayfair with a 4.4 out of 5 star rating.
Pros
Space-saving

Can be used on top of an existing shelf

Blends with any style of home furnishings

This can hold a TV up to 65-inches but others have mentioned they have put larger TVs on this stand
Warranty Length: 1 Year
Cons
Some users commented that its "really short"
Some users mentioned that the shipping wasn't great
Modern TV Stand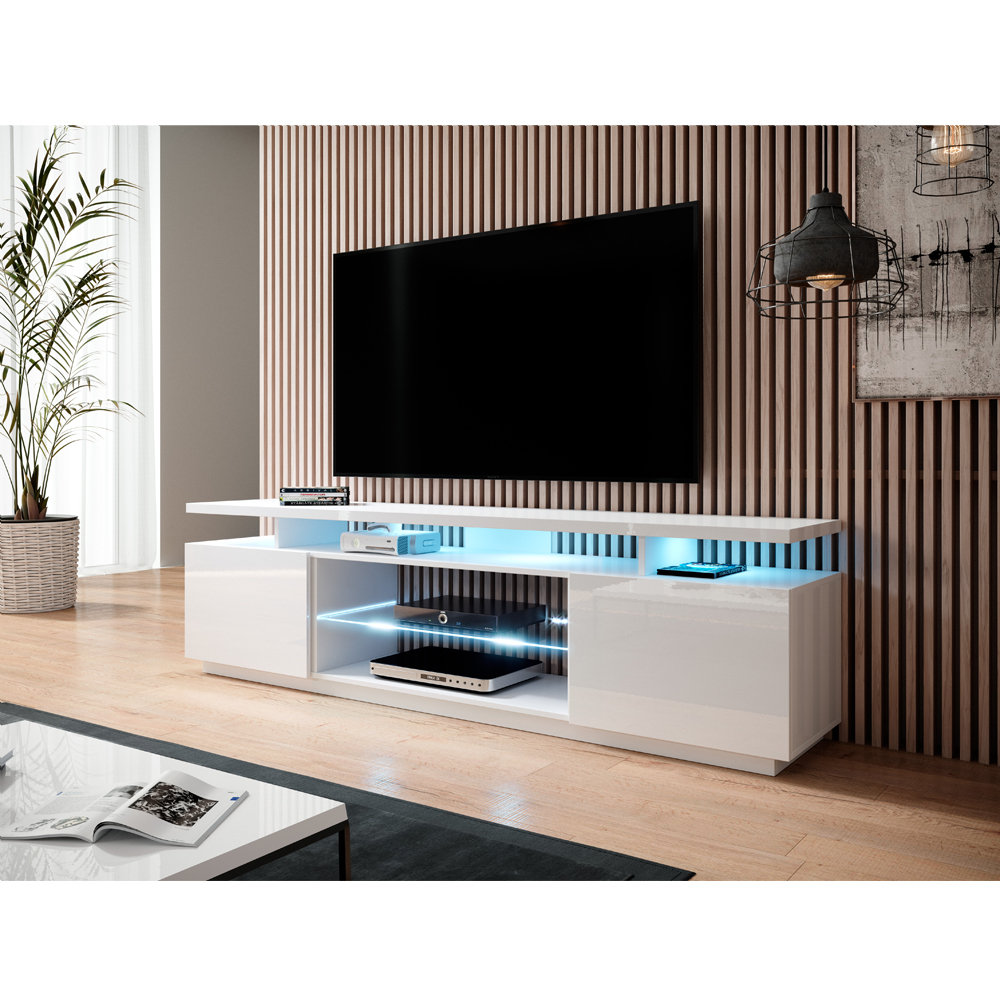 Get it
This gorgeous stand comes with built-in LED lights that add sophisticated, subtle lighting to your entertainment space. The chic design stands out and can help contemporize your entertainment room. This can give your smart living room a very modern look that's sure to impress your guest. Manufactured in and imported from the European Union.
Pros
Remote controlled lighting

Stands less than two feet tall

Blends with a variety of décor

A reviewer mentioned "Easy to put together and looks great"
Cons
One buyer mentioned that the material of the TV stand is fragile
At over $500, it might be a little pricy for some
Love the look of an LED? Take lighting a step further with this guide!
Bookcase TV Stand
Get it
This quirky design can become the conversation piece of any room and is great for displaying your book collection as well as any keepsakes. The dual pieces can be arranged in multiple ways, so if you're the type of person who likes to change it up, this is the stand for you. This has over 5,000 reviews on Amazon with 4.2 out of 5 star rating. 
Pros
Open design great for decoration

Two-piece design can be used together or separately in various combinations

Easy to assemble

Can hold a TV with a weight capacity of up to 55 lbs
Very affordable with the price being under $100
Cons
Particleboard can get chipped easily
Entertainment Center TV Stand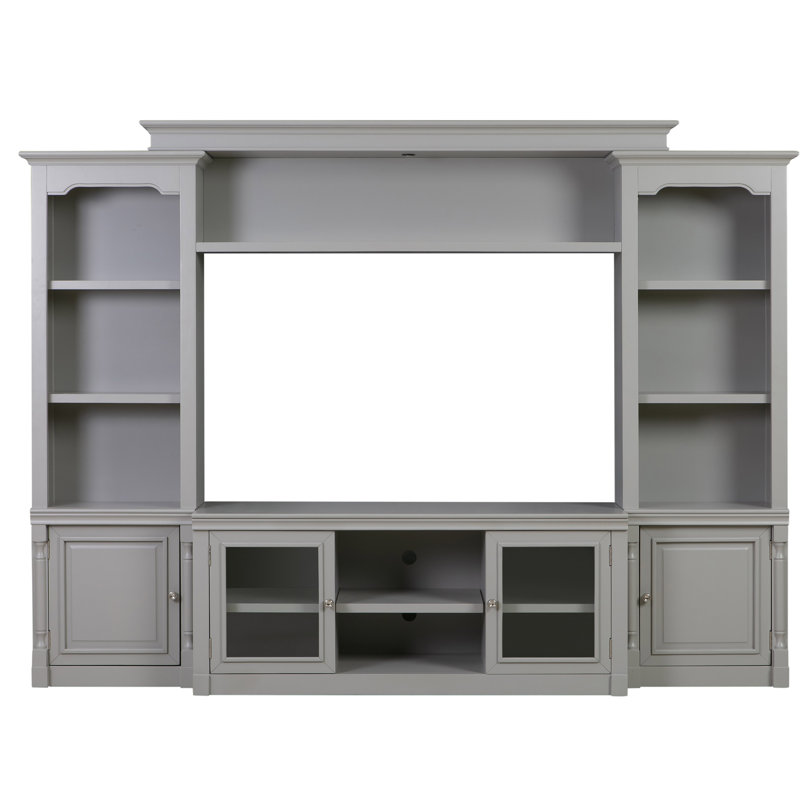 Get it
If you're looking for a piece of furniture to take center stage, this Canora entertainment center fits the bill. There is enough storage space to display items as well as closed cabinets to tuck away clutter.  The Canora Grey Virginia Entertainment Center TV Stand comes in Gray, Charcoal, and Cream. Has over 100 reviews on Wayfair.
Pros
LED lighting included

Great for large room

The elegant design makes a perfect focal point

Cable Management, Adjustable Shelves
Warranty Length: 1 Year
Up to a 62-inch TV
Cons
This is going to be too large for some rooms
Very heavy stand after being put together
Pricy at around $1,500
Wall mount TV Stand
Get it
This eye-catching design makes it easy to hook up a TV up to 70 inches. The floating unit has some open storage and shelves for added convenience. The Rolanstar Wall Mounted TV Stand comes in colors of Black, Grey, and Rustic Brown. This design allows you to save valuable floor space and have something different than others.  This has over 600 reviews on Amazon with 4.6 out of 5-star rating.
Pros
Floating design
Easy TV installation
Suitable for larger televisions
Reasonably priced at around $130
Cons
Engineered Wood
Might not work on everyone's walls
Compact TV Stand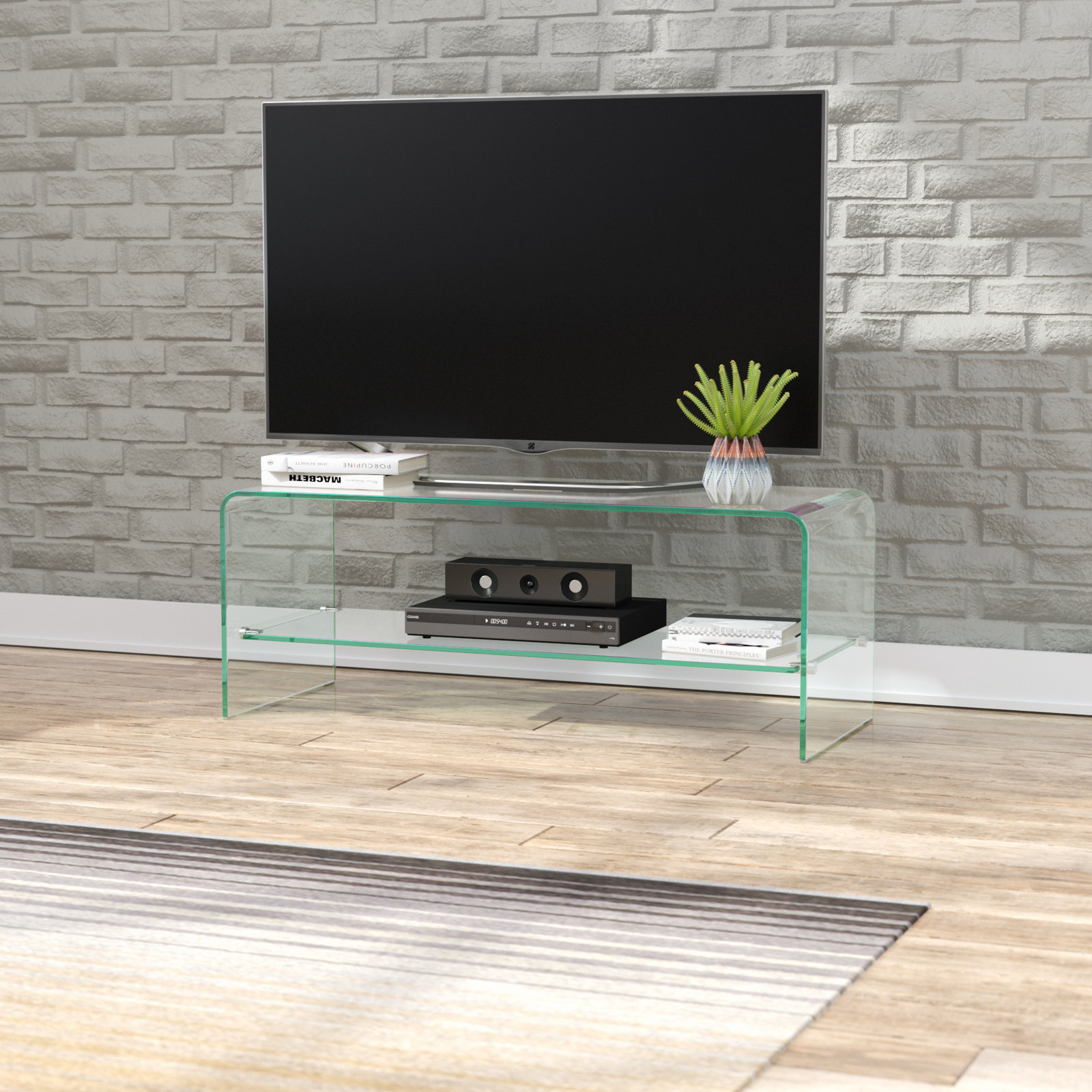 Get it
This barely-there design won't conflict with anything else going on in the room. Furthermore, the tempered glass is shatter-resistant for added safety. With a modern look, this piece with its waterfall edges and a single open shelf design is really pleasing to look at. This has over 109 reviews on Wayfair with a 4.6 out of 5 star rating.
Pros
Space-saving

Can go with any color scheme

Media storage shelf holds up to 40 lbs.
Cons
If this ever develops a crack, you would have to get rid of the whole thing
Covered Storage TV Stand
Get it
When you're furnishing a smaller space, every bit of storage counts. The closed-door design of this Walker Edison Caye buffet-style stand allows you to hide away small and maximize storage. This has over 1,700 reviews on Amazon with a 4.3 out of 5 star rating.
Pros
Cute retro style

Opaque doors allow for private storage

Rubber feet won't scratch floors
Cons
Some users mentioned the predrilled holes and slots didn't align the best
Cost is over $200
Corner TV Stand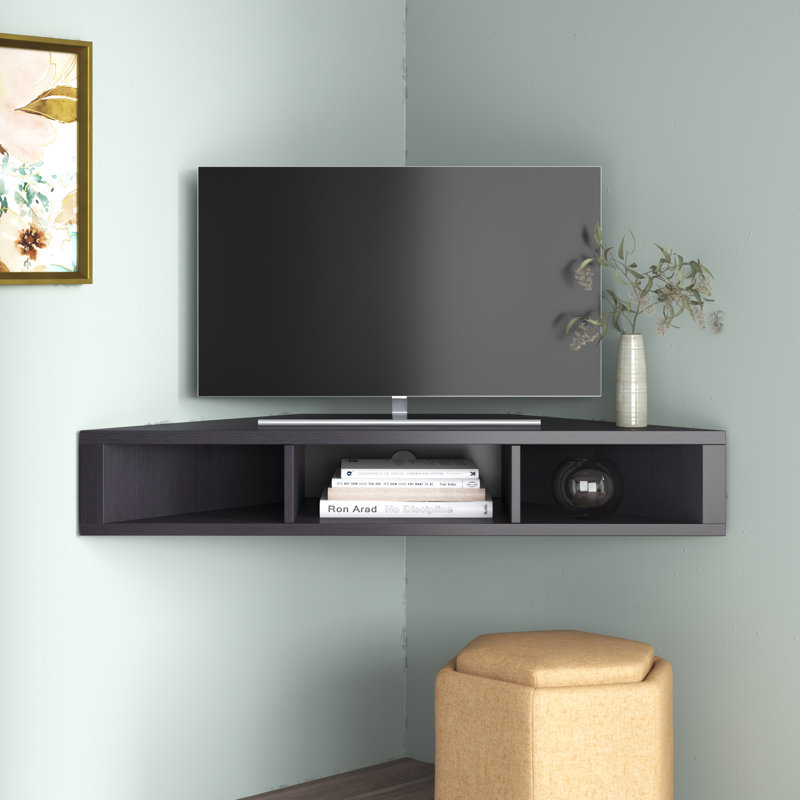 Get it
Need to make use of a corner and save floor space? Look no further than this convenient floating corner stand. Yet another great aspect of this floating corner stand is that you decide the height it is installed at, which makes it work with any seating arrangement. The Ebern Designs French TV Stand comes in colors of Cappuccino, Walnut Oak, and White Oak. Ebern Designs French Corner TV Stand has over 470 reviews on Wayfair with a 4.6 out of 5 star rating.
Pros
Doesn't take up floor space

Includes installation hardware

Can be placed higher up on the wall for the best viewing angle

Weight capacity is 50 lbs
Cons
It will not fit some of the bigger TVs
Fireplace TV Stand
Get it
There's no reason to settle for a run-of-the-mill TV console when you can have one with a built-in electric fireplace! The tempered glass and lighting make for a sleek and modern fireplace TV stand. You got plenty of room for audio components, DVDs, Blu-rays, or video games thanks to the six open shelves. The fireplace features adjustable flame brightness, flames with or without heat. This has almost 6,000 reviews on Amazon with a 4.7 out of 5 star rating. 
Pros
A fireplace adds a sleek and modern style to your living room

Can be used with or without heat

This can hold up to 70" wide with a maximum weight of 120lbs
Cons
At around $350, is a little more on the pricy side of things
One reviewer on Amazon mentioned that the finish isn't very durable
Solid Wood TV Stand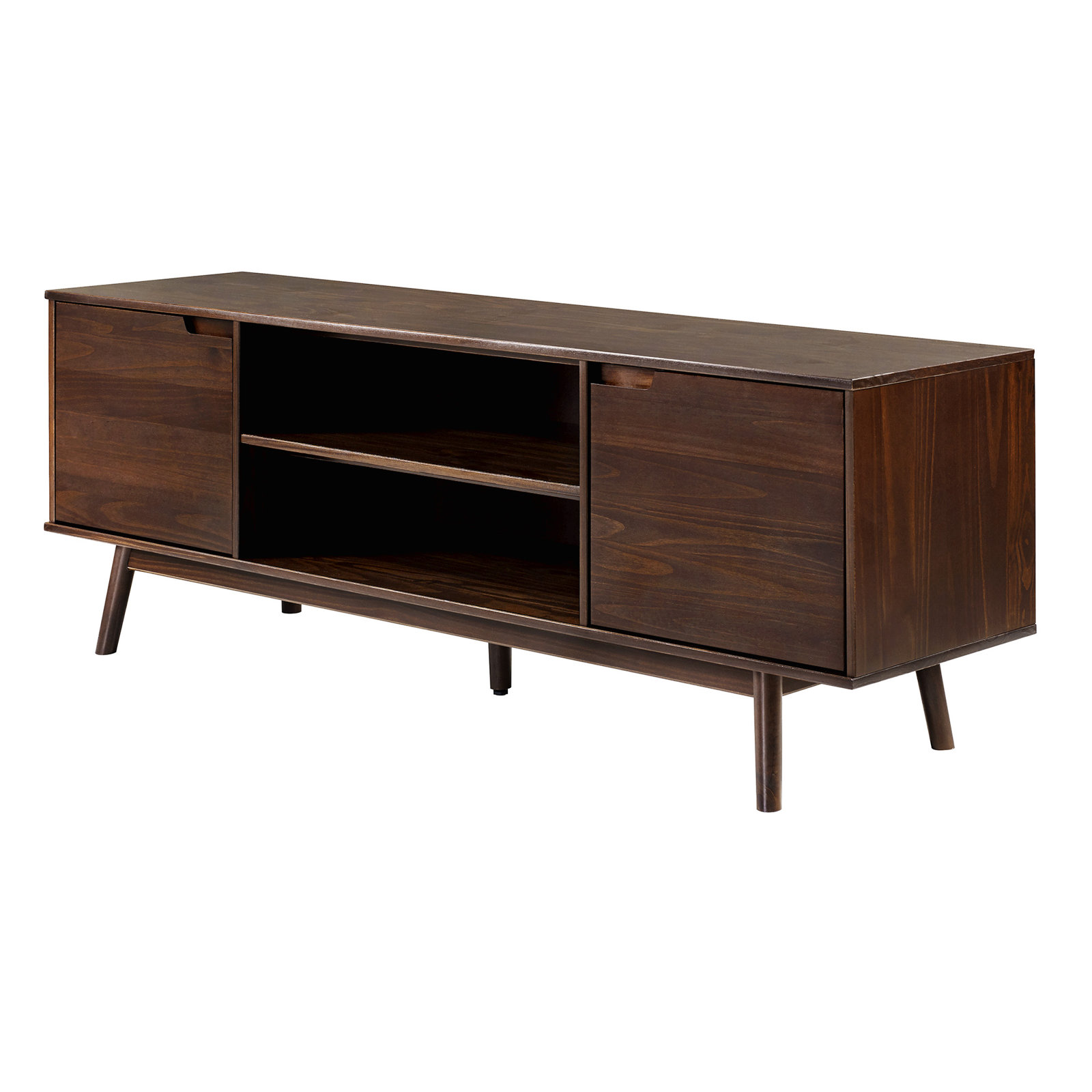 Get it
Solid wood furniture is known for its classic appeal as well as its long-lasting quality. Created to fit an extra-large TV, the Mercury Row Griffing Solid Wood TV Stand for TVs up to 85″ was created for extra-large TVs and is probably the most durable TV stand on the list. Its made from solid pine wood, with a rich natural finish. This TV stand also comes with a wall anchor for extra safety, and cable management cutouts to help keep your stuff organized. The Mercury Row TV Stand comes in Walnut or Caramel colors.
Pros
Solid wood

Number of Cabinets: 2
Number of Interior Shelves: 4
Cable Management
Cons
One of the reviewers mentions missing parts. Hopefully, this was a one-off happening.
Heavey after constructed
Can cost as much as $600 but as of this writing its around $350
---
COMMONLY ASKED QUESTIONS for TV Stands
Q. What can I use instead of a TV stand?
A. You can use furniture like a table or bookcase instead of a designated TV stand. However, TV stands are the superior choice for a number of reasons. Since they are designed to hold pricey electronics, they tend to be sturdier and more balanced than other furniture. Additionally, a good TV stand will have cord control as well as places for speakers and devices such as DVD players.
Q. What size TV stand do I need?
A. To find the best TV stand to meet your needs, take a few things into account. The size of your room will determine how large of a television and television stand you'll want. The TV stand must be longer in length than the base of the TV. You will also want to consider the height at which the TV will best be viewed. This takes into consideration your seating as well as the distance between you and the TV. 
Q. How do you secure a flatscreen tv?
A. Televisions that are attached directly to the wall need to be properly anchored. A good TV stand will include hardware that will secure your TV directly to the stand. Always make sure to follow the manufacturer's directions regarding installation as well as any weight limits.
Q. What else can you store on a tv stand?
A. A TV stand is a great way to increase storage in a smaller room. Aside from things like speakers, DVD players, or remotes, you can also display keepsakes like photos or decorations. Books and potted plants also make a space look more polished. 
Picking out the right TV stand can bring your space to life. Take into account technical specifications, but keep the process fun by choosing a unit that fits your style.
---
Why you should trust Ideaing?
Do you want to find the best TV stand for your home? If so, you might be wondering who to trust for honest and reliable advice. There are many TV stands out there, but not all of them are worth your money or suit your needs. You need someone who has the expertise and experience in technology to help you make the best decision. That's where we at Ideaing come in. Since 2013, our team at Ideaing has an extensive background in technology, from electrical engineering to product managers at Fortune 500 companies. We have worked with products such as Samsung TVs, Bose speakers, Roku streaming devices, and more. We pride ourselves on providing truly objective insight into our reviews and recommendations. Also, we don't accept any sponsorship or free products from manufacturers. We also listen to our customers and readers and incorporate their feedback into our reviews. Our goal is to help you find the best products for your lifestyle and budget. That's why we have done the hard work for you and researched the best TV stands on the market today.
---
Have you upgraded your TV stand recently? Let us know in the comments!