In the late 1950s and 1960s a rather distinctive type of clock display existed in the form of Nixie tubes, neon-filled wire glow lamps. They work similar to vacuum-fluorescent displays or VFDs, only they emit a bright orange glow instead of a blueish-green color. They were eventually replaced by LCDs or light-emitting diodes, especially in smaller and more compact devices.
They've been largely phased out, which sucks for people who really love their look. But some enthusiasts are trying to bring them back.
That's why Reborn ZIN18 exists. It is a "super compact" Nixie tube designed to be both incredibly stylish and functional.
What the Hell is Reborn ZIN18?
As you can see, the ZIN18 tubes are sleeker and taller than conventional Nixie tubes.
Simply put, Reborn ZIN18 is a set of compact Nixie tubes arranged inside a custom clock. Packages allow you to buy a single tube, or up to six tubes at a time. Four would be the standard allowing you to display hours and minutes, for example. Six would allow you to display seconds.
The tubes themselves are manufactured by Millclock and are made to be elongated yet super compact. The original design of Nixie tubes meant they were quite large and fat. The result is an incredibly looking timepiece that uses age-old tech in new ways.
Zin18 clocks can be controlled via a mobile companion app on iOS and Android. They also include a touchpad sensor on the front side of the glass casing, which you can use to configure various settings.
What Does "ZIN" Stand for?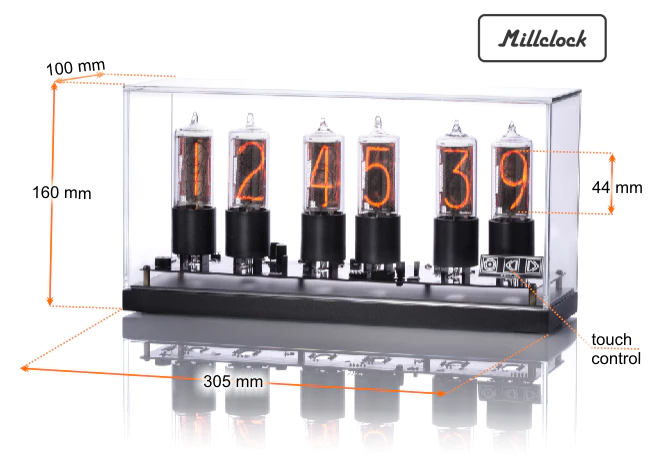 The clock you see here is merely a prototype.
According to the team, the term "ZIN" stands for "a blend of the Z class and IN class Nixie lamps." In other words, it signifies the way the two types of Nixie tubes were meshed to created these upgraded, better looking models.
"First we modernized a beautiful base which is used in the Z class tubes. Then, we elongated a small IN18 Nixie tube with digits measuring 44 mm in height., and mounted it in the base. We strengthened the entire piece to create the modern adaptation of the Reborn ZIN18 super-compact Nixie tube using modern equipment."
The result is, of course, the company's modern and sleek tubes that are being used in the ZIN18 clocks. The tubes are available in three different variations, allowing you to choose what they look like.
The tube variations are: polished, aluminum, black anodized and sand blasted aluminum.
Where Can I Get a Zin18 Clock?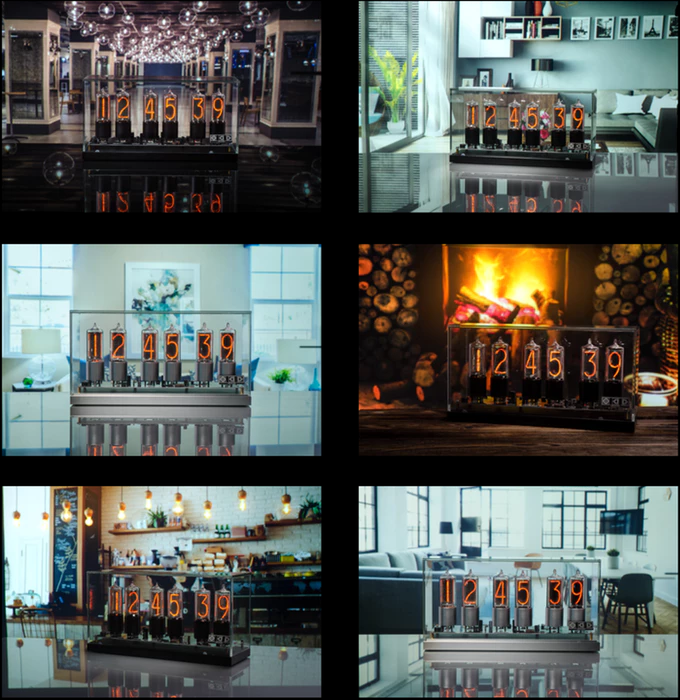 There are many different variations of the ZIN18 clock thanks to these new Nixie tubes.
The company originally turned to IndieGoGo to raise enough funds for their project. It was successful, and backers pledged 285% above the funding goal. The first units are expected to go out to early backers (pre-orders) by the end of April, 2019. Everyone else should be able to purchase a Zin18 clock shortly after.
Ideaing empowers you to live smarter. Our team researches and recommends only the best smart gadgets, and we may earn a small commission if you buy through our site. Our writers maintain strict editorial independence and integrity. Ideaing is independently owned and the opinions expressed here are our own. Learn more about us.