Lost luggage in airports.
Unfortunately, millions of people experience this every year because of low-quality locks. And we're not talking of traditional locks only. There are "modern" locks that offer security, but fail at other aspects.
Password locks can be hacked. Fingerprint locks can be easily tricked (hello silicone or gelatin fingers). Bluetooth locks? You can lose the keys at some point.
Good news. ANYSAFE Audio just created the perfect lock to address all these: Travelock 2.
What is Travelock2?
Just scan and pop!
Travelock 2 is a lightweight TSA-approved lock that pops up when the rightful owner scans her fingerprint. TSA is the Transport Security Authority by the way and is recognized worldwide.
Unlike Bluetooth smart locks that run on Bluetooth connectivity, the Travelock2 is operated by an independent AI, dramatically reducing the chances of information disclosure.
It uses an advanced form of a capacitive fingerprint sensor of up to 508 DPI. Translation: it recognizes rich finerprint sensors thieves who target you will have a hard time breaking through it. It only responds to fingerprints of living people, gelatin or silicone fingers not included.
Aside from the impressive technology, we love the convenience that this new lock brings. It just pops open, a huge relief when doing checks in the airport or during the packing/unpacking stages of your trip.
What Else Do We Love About Travelock2?
Apart from the quick 0.5s that it takes to unlock it… we also love
Anti-theft with capacitive fingerprint
360-degree fingerprint recognition (any part of your finger will initiate the unlocking)
No keycodes to memorize
Ability to store up to 10 sets of fingerprints
IP65 waterproof
2-year rechargeable battery life
Super durability that no one or nothing can cut it off easily (see below!)
Plus, your luggage aren't the only things you can use it on. You can use it on bikes, backpacks and even on front doors! Use the spring coils if you have to!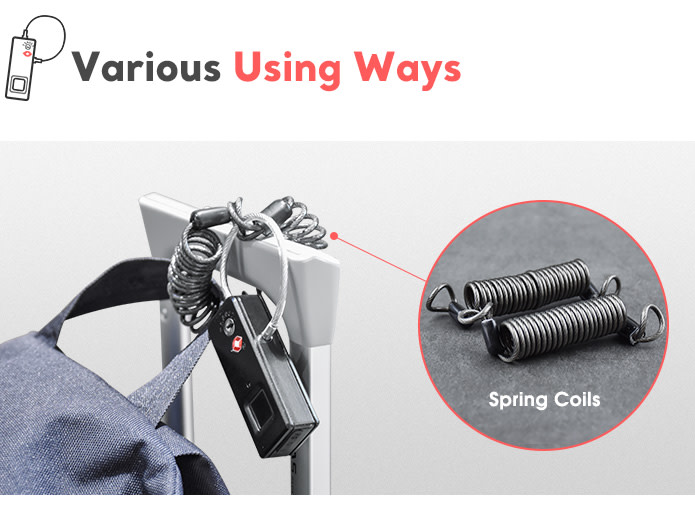 Where can I get one?
As of this writing, Travelock2 is on fire on Indiegogo with over 300 backers and 452% over their funding goal. People do believe in the product and they are going to get their hands on this security lock as early as October 2019 for only $49 (selling price will be around $80).
Head over to Indiegogo and get one or a pair so you can have peace of mind while you travel!
Ideaing empowers you to live smarter. Our team researches and recommends only the best smart gadgets, and we may earn a small commission if you buy through our site. Our writers maintain strict editorial independence and integrity. Ideaing is independently owned and the opinions expressed here are our own. Learn more about us.